By Allana Haynes • Catholic News Service • Posted July 1, 2016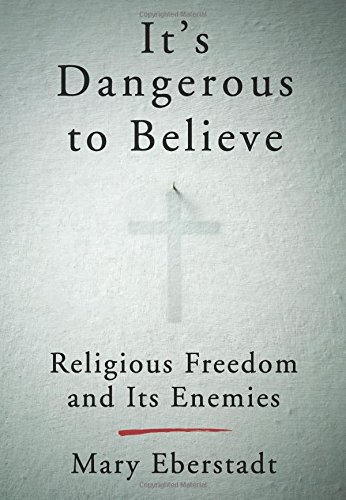 WASHINGTON (CNS) — The author of a new book on religious liberty issues said at a June 28 lecture in Washington that "the Western world today is home to a secularist faith."
Modern-day religion is becoming stifled in the secular age, said Mary Eberstadt, author of "It's Dangerous to Believe: Religious Freedom and Its Enemies."
"A new chapter has opened in American history, in which people of faith are on the receiving end of an ascendant secularism, as they have not been before," she said at the Heritage Foundation. "The punitive treatment of today's religious believers is unjust and violates traditional American understandings of fair play and open debate."
Eberstadt was joined on a panel by Ryan T. Anderson, who is the William E. Simon senior research fellow in American principles and public policy at Heritage, while a discussion was led by Kathryn Jean Lopez, senior fellow at the National Review Institute.
Eberstadt said her book is aimed at all readers, particularly those outside of religious environs and is meant to educate those who may be unaware of how believers are being treated.
"(The book) is an attempt to open a conversation where one doesn't exist yet," she said. "It asks secularists and progressives, to reflect on how far their movement has become when it comes to treatment of people who think differently."
[hotblock
The lecture highlighted recent events where people of faith faced discrimination because of their beliefs, addressing the fight against the contraceptive mandate in the Affordable Care Act by the Little Sisters of the Poor, whose religious mission is to serve the elderly poor.
"The Little Sisters of the Poor are not just any nuns," said Eberstadt. "They are indigent nuns, who take in the dying and live with them as a family. They take in people who everybody else has thrown out, who have nothing and they love them and take care of them."
The Little Sisters' case against the mandate is part of the Zubik v. Burwell case, which includes several Catholic entities' legal challenge of the mandate. The Zubik case has been a flashpoint in the U.S. church's fight on religious liberty issues. The Supreme Court May 16 sent the case back to the lower courts to allow the plaintiffs and the federal government to resolve how employees of religious institutions can receive the contested coverage without the religious employers compromising their moral beliefs.
Anderson brought up the issue of assisted suicide and said that the Little Sisters of the Poor provide care that is a contradiction to the idea of "death with dignity."
"(The sisters) provide a real 'death with dignity' by surrounding them in a family setting," said Anderson.
Faith-based charities, Eberstadt mentioned, face discrimination because of their refusal to deter from their religious conscience.
The Green family as owners of Hobby Lobby, a chain of more than 500 arts and crafts stores, also refused on moral grounds to comply with the federal government's contraceptive mandate. The company already covered birth control in its employee health plan but objected to being required to cover contraceptive drugs considered to be abortifacients.
Anderson said that the owners of Hobby Lobby were willing to "spend themselves out of existence" by paying a fine placed on them by the government for noncompliance, because they were not willing to violate their religious conscience and comply with the mandate.
The case went to the Supreme Court and in March 2014 the court ruled in favor of the company.
"They litigated this because they saw their business as a way of doing good works and to help people flourish," said Anderson.
Eberstadt concluded by mentioning "civility," a word which she said provides "an opening to discuss the themes of the book that didn't exist before."
"In the spirit of (the Rev.) Martin Luther King Jr., who taught us to hold other people to their own high standards," said Eberstadt, "I think it's fair to ask if civility is what we're all talking about and incivility is what we all deplore, then let's take a look at what's been happening to religious believers, rhetorically and in the workplace in their educational institutions and elsewhere."
Anderson said that in her book, Eberstadt discourages believers from becoming inactive in the political process.
"There is a temptation right now among certain conservative American Christians to become disengaged with the political process," said Anderson. "Mary takes the exact opposite tactic in this book and she has strategies and proposals for how to engage prudently."
Win free tickets, help support CatholicPhilly.com
CatholicPhilly.com often partners with our region's top cultural venues. During this two-week period, you can benefit by our association with The Franklin Institute in Philadelphia.
Make a donation of any amount during this period and you will receive two general admission tickets to Philadelphia's premier educational museum -- that's a $60 value.
Use our secure credit card form by clicking the link below. That will enable us to contact you so we can send the tickets, which are valid to September 2018.
Your donation helps us to provide high-quality coverage of the local Catholic communities we primarily serve, while also distributing national and world news of interest to Catholics, plus the orthodox teachings of the Catholic faith. Your gift gift of $40, $50, $100, or more will strengthen the fabric of our entire Catholic community.
Make your donation by credit card here: