By Cindy Wooden • Catholic News Service • Posted April 15, 2019
VATICAN CITY (CNS) — The cardinals participating in a conclave to elect a pope take a very solemn vow of secrecy regarding what occurs in the Sistine Chapel, including anything "directly or indirectly related to the results of the voting."
But, perhaps motivated by a desire to set the historical record straight, there is often a cardinal who will share his vote tallies and details of the conclave with a journalist.
(See a related video.)

In September 2005, the respected Italian geopolitical journal, Limes, published the ballot tallies and other information from the election of Pope Benedict XVI four months earlier.
According to the information from a cardinal's diary given to an Italian journalist, then-Cardinal Jorge Mario Bergoglio had the second-most votes on each of the four ballots cast.
Coming in a strong second should have made the Argentine cardinal an obvious choice going into the 2013 conclave after Pope Benedict resigned, but common thinking was that by then, at 76, he was too old.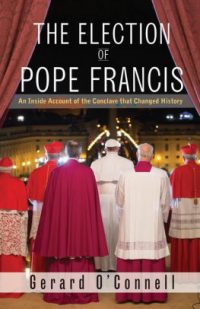 In his new book, "The Election of Pope Francis: An Inside Account of the Conclave That Changed History" (Orbis Books), Gerard O'Connell gives the tallies of the five valid ballots cast in the 2013 election, but also a varied and detailed account of what dozens of cardinals and the media were saying in the days leading up to the vote.
In the runup to the conclave, Italian media and many others insisted the front-runner was Italian Cardinal Angelo Scola, then-archbishop of Milan. But according to O'Connell's count, he was first only on the first ballot, leading Cardinal Bergoglio 30 to 26.
Canadian Cardinal Marc Ouellet, prefect of the Congregation for Bishops, was third on every ballot, O'Connell wrote. And Cardinal Sean P. O'Malley of Boston garnered 10 of the 115 votes on the first ballot and three on the second ballot.
As for the secrecy that is supposed to surround the election, O'Connell told Catholic News Service that when several cardinals, "one in particular, but there were others," agreed to speak to him, they knew that he eventually would write about the conclave. "They made this clear to me."
Their reasons for speaking varied, but "I think most of them realized this was a turning point in the history of the Catholic Church" with the election of the first pope from Latin America and the first Jesuit, said O'Connell, the Vatican correspondent for the Jesuit-run America magazine.
Although he wrestled with the question, he said, "I had not taken any oath of secrecy; the cardinals had. How they come to terms in their own conscience, that's not for me to judge."
The vote tallies are just a small part of O'Connell's book, which is written in the form of a diary that covers the period from Pope Benedict's announcement of his resignation through the inauguration of the new papacy March 19, 2013.
One thread running through the book is the long friendship O'Connell and his wife, the Argentine journalist Elisabetta Pique, had with then-Cardinal Bergoglio.
The worldwide televised scene of Pope Benedict ending his papacy, flying by helicopter to Castel Gandolfo and the Swiss Guards hanging up their halberds is made even more poignant in the book by O'Connell describing Cardinal Bergoglio arriving at their home for dinner that night in time to watch it with them.
"With us he saw the Swiss Guards abandon their positions; there was no longer a pope to guard," O'Connell wrote. "We watched in total silence. It was an awesome and truly historic moment. The See of Peter was now vacant. Little did we know that his 265th successor was standing next to us."
Speaking about it now, six years later, O'Connell choked up. "It was a powerful moment looking back at it, but it was a powerful moment then as well."
Of course, he said, the dinner conversation afterward included reflections on possible candidates for pope and on the state of the church. O'Connell does not share exactly what the cardinal said that night, but he said Pique told Cardinal Bergoglio, "If you keep talking like that, they're going to elect you!"
And, in fact, in O'Connell's account, one talk by Cardinal Bergoglio seemed to mark a shift in the pre-conclave discussions; it was the moment the cardinal electors seemed inclined to set aside concerns about electing a 76-year-old in an attempt to elect a "man of God" with a clear vision for the church, including how to move forward with a reform of the Roman Curia.
Shortly after his election, Pope Francis allowed Cuban Cardinal Jaime Ortega of Havana to publish a text of the pre-conclave talk, which contains points that have become familiar refrains of his pontificate: The church is called to go out to the "peripheries," both geographical and intellectual; when the church does not focus on evangelization, it becomes "self-referential," which leads to illness and stagnation; the reform of the Roman Curia must focus on helping it help the church keep focused on Jesus and evangelization, not the institution; and the next pope must be one who goes from contemplating and adoring Jesus to proclaiming his good news.
While it is true that different cardinals have different visions for the church and different visions for how power and authority should be exercised in it, O'Connell said talking to dozens of cardinals, on and off the record, the conclave clearly was more about prayer than politics.
"A lot of the press coverage I read didn't seem to consider this as a real factor in the choice of a man," O'Connell told CNS, "but in the hearts of the cardinals, many of them, this was number one. They were looking for a holy man, a man who could inspire people and whose own life reflected his beliefs. At the end of the day, these were deciding factors when it came to the choice."
Help us keep you informed -- CatholicPhilly.com can't do it without you
During
CatholicPhilly.com's
fall donation campaign, you have a way to help us deliver the kind of news you need to know about the Catholic Church, especially in the Philadelphia region, and the world in which we live. Every household's costs keep rising, and we're no different. We make sure your dollars in any amount go a long way toward continuing our mission to inform, form in the Catholic faith and inspire the thousands of readers who visit every month. Here is how you can help:
A $100 gift allows us to present award-winning photos of Catholic life in our neighborhoods.
A $50 gift enables us to cover a news event in a local parish, school or Catholic institution.
A $20 gift lets us obtain solid faith formation resources that can deepen your spirituality and knowledge of the faith.
A small, automated monthly donation means you can support us continually and easily.
Won't you consider making a gift today?
Please join in the church's vital mission of communications by offering a gift in whatever amount that you can -- a single gift of $40, $50, $100, or more, or a monthly donation. Your gift will strengthen the fabric of our entire Catholic community.
Make your donation by check
:
CatholicPhilly.com
222 N. 17th Street
Philadelphia, PA 19103
Or by credit card here: