By Lindsay Hueston • Posted September 14, 2015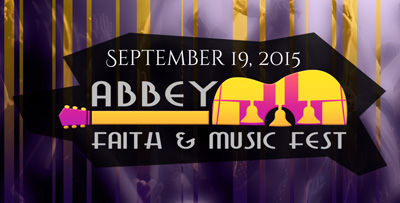 Final preparations are being made this week for the Abbey Faith and Music Fest at Daylesford Abbey in Paoli.
Following last year's successful inaugural festival of music, prayer and fun, which is open to everyone but geared especially to young people, this year's AbbeyFest will take place Saturday, Sept. 19 on the eve of the World Meeting of Families in Philadelphia.
Performing at this year's festival are renowned Christian musical artists Brandon Heath, Matt Maher, Sara Groves, Jenny & Tyler, Marie Miller, Righteous B and Ike Ndolo. These artists perform worship music in contemporary pop styles but with lyrics and themes infused deeply with the Catholic faith.
In addition to live music performances, AbbeyFest will feature speakers such as Sister Miriam James Heidland, S.O.L.T.; and Curtis Martin, founder of FOCUS (Fellowship of Catholic University Students).
(See scenes from last year's festival.)
Parishioners of St. Norbert Parish, near Daylesford Abbey in Paoli, help run many of the events for AbbeyFest, which also includes plenty of food, vendor exhibits and spacious grounds for play, prayerful walks and even outdoor confessions with Norbertine priests.
Mark Griswold, director of family life and youth minister at St. Norbert Parish, is the lead organizer of AbbeyFest. The festival, he said, is "an opportunity for people to celebrate faith with music and prayer, lifting our hearts to God with some of the best artists in Christian music."
"It's especially exciting with Pope Francis' upcoming visit to Philly," Griswold said, "and we're using (the festival) as a way to prepare for it prayerfully."
Tickets can be purchased individually or in groups both in advance and at the entrance area of the abbey's grounds, merchandise will also be for sale.
Food will be available for purchase from vendors at AbbeyFest all day; picnic lunches are welcome, but alcohol and/or personal coolers are prohibited. Water stations are also available throughout the festival, as each attendee receives a water bottle with the AbbeyFest logo to use throughout the day.
A limited number of AbbeyFest T-shirts will also be on sale near the ticketing and entrance area. Credit cards will be accepted at this area, but some food vendors may only accept cash.
The AbbeyFest is an outdoor event, and festival-goers should dress accordingly. Additionally, those attending the festival can bring blankets, tarps, or chairs to sit on during the performances that run all day and into the night.
Griswold also noted that the lineup for the festival is "bigger and better than last year," explaining that with the return of Matt Maher and the additions of Brandon Heath and Sara Groves, some of the most popular artists on Christian radio will be performing.
"The biggest comment that we got from attendees last year was, 'thank you for an event that touched our entire families, from the kids to the grandparents.' It is truly a day for families to get together in a place of faith, because there are not usually a lot of opportunities to do so."
As for transportation, parking will be available for both personal vehicles and buses; however, carpooling is encouraged, because parking spaces are limited.
To learn more about AbbeyFest, please visit the AbbeyFest website.
Win free tickets, help support CatholicPhilly.com
CatholicPhilly.com often partners with our region's top cultural venues. During this two-week period, you can benefit by our association with The Franklin Institute in Philadelphia.
Make a donation of any amount during this period and you will receive two general admission tickets to Philadelphia's premier educational museum -- that's a $60 value.
Use our secure credit card form by clicking the link below. That will enable us to contact you so we can send the tickets, which are valid to September 2018.
Your donation helps us to provide high-quality coverage of the local Catholic communities we primarily serve, while also distributing national and world news of interest to Catholics, plus the orthodox teachings of the Catholic faith. Your gift gift of $40, $50, $100, or more will strengthen the fabric of our entire Catholic community.
Make your donation by credit card here: