By David Gibson • Catholic News Service • Posted February 26, 2016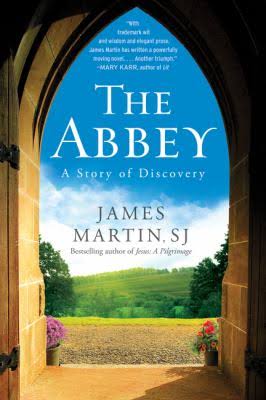 "The Abbey: A Story of Discovery"
by Father James Martin,
SJ. Harper Collins (New York, 2015).
212 pp., $24.99.
Anne, a divorced 40-year-old woman who essentially remains Catholic in name only, arrives almost by happenstance one evening at the Trappist Abbey of Sts. Philip and James in "The Abbey," Jesuit Father James Martin's recently published first novel.
Three years earlier a car struck and killed Anne's only child, 13-year-old Jeremiah. She wishes she "could stop obsessing" over Jeremiah's death but certainly does not want to forget him. She is confused about how she feels and how she is "supposed to be feeling."
Anne screamed words of hatred at God when Jeremiah died. She thinks God is not "close to her."
When Anne's car breaks down at work, she phones Mark, her neighbor, to ask if he might pick her up after his work and drive her home from the repair shop where her car was towed. Mark, "an experienced carpenter, not to mention an architect," is the abbey's handyman.
When Mark arrives, however, he suddenly realizes he left his cellphone behind at the abbey. So he and Anne drive there together to retrieve it.
"The Abbey" is subtitled "A Story of Discovery." Anne's story is its central focus. But Father Martin also carefully weaves Mark's story into the book's narrative, the story of a still-young man hoping to find a direction for his life, careerwise and otherwise.
Anne's story really gets underway as she waits in an abbey hallway for Mark to return with his cellphone. When he returns, he finds Father Paul, the abbot, chatting with Anne.
Anne, Mark and Father Paul each play key roles in this story of discovery. But a fourth presence also figures powerfully into the novel — an icon of an olive-skinned Mary whose "inscrutable expression" captures Anne's attention, causing her to wonder whether Mary ever knew that her own son would be killed.
During a second visit to the abbey, Anne senses that the Mary in the portrait is not "looking at the child in her arms" but is looking right "at her."
This icon will serve as a catalyst for a series of remarkable conversations with Father Paul that Anne, whose journey of discovery proceeds haltingly and with considerable resistance on her part, finds most challenging.
Father Martin is widely known as the author of books such as "Between Heaven and Mirth" and "The Jesuit Guide to (Almost) Everything." He is familiar to many as a frequent TV commentator on Catholic events and issues.
Clearly, though, Father Martin has done his share of spiritual counseling. He acknowledges in an author's note that this novel's conversations are grounded in his experiences "as a spiritual director and as someone who has received spiritual direction."
He wants readers to know that "Anne's experiences, struggles and questions are common in the spiritual life."
It may be all to the good that elements of spiritual direction are accorded an important role in "The Abbey." Often enough, religious educators go in search of a novel or short story to help illustrate the workings of faith in real-life contexts and facilitate reflection in groups or classes.
I can readily imagine a parish group or retreat group employing "The Abbey" as a resource to spark discussion, particularly when addressing the skewed images of God that often hold participants back in their own journeys of discovery.
With its accent on a compassionate, merciful God who works quietly but actively in people's lives, "The Abbey" seems very much a novel of the Pope Francis era.
Father Paul's fond hope is that Anne will reach a point of allowing God to speak to her "in whatever way God wants." The priest says to her, "Let it be God, not Anne's God, not your old images of God, but 'God.'"
The abbot has high hopes for Mark too. What "we try to do here" at the abbey, Father Paul tells him, is to "strip things away so that we can be who we're called to be. It's like stripping off an old coat of paint from a table, so you can see the original wood."
The journeys of discovery at this novel's heart seem true to life. Anne and Mark indeed advance toward new, more satisfying points in their lives, but do so only gradually and tentatively.
It seems clear in the end, and this undoubtedly is to Father Martin's credit, that their journeys remain works in progress and, one can imagine, will yet unfold in quite surprising ways. Might "The Abbey" be followed in due time, then, by a sequel?
***
Gibson was the founding editor of Origins, Catholic News Service's documentary service. He retired in 2007 after holding that post for 36 years.
Help keep Catholic media free, support CatholicPhilly.com
You may have noticed "pay walls" greeting you when you visit the websites of newspapers and magazines, both large and small. These mechanisms allow you to read a few articles for free before you've got to pay an annual fee if you want to see more.
You won't find a pay wall on CatholicPhilly.com because we're more than a news organization. We're informing, inspiring and forming readers in the Catholic faith every day through the news, features and commentaries that we post on this site and share across social media.
It costs money to provide high-quality coverage of the local Catholic communities we primarily serve, while also distributing national and world news of interest to Catholics, plus the orthodox teachings of the Catholic faith.
Help us in this mission by making a single gift of $40, $50, $100, or more. Your gift will strengthen the fabric of our entire Catholic community.

Make your donation by check:
CatholicPhilly.com
222 N. 17th Street
Philadelphia, PA 19103

or by credit card: