Posted February 3, 2017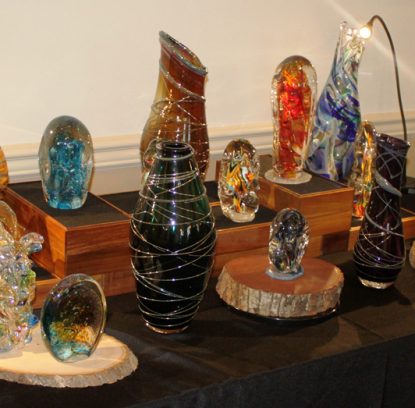 The Malvern Retreat House Annual Art Show features some of the region's finest artists displaying works ranging from paintings to glass art to jewelry.
Typically, revenues from approximately 600 art pieces sold during the show total about $100,000. A portion of the proceeds benefits Malvern Retreat House.
The show runs through Sunday afternoon, Feb. 5. Hours are 10 a.m.to 7 p.m. Wednesday to Saturday, 10 a.m. to 4 p.m. Sunday.
Highlights of this year's show include works from some 100 juried artists, a featured exhibit of figurative art, and the works of numerous award-winning and nationally acclaimed artists.
The show's organizers cast a wider geographic net this year to attract not only some of the best artists in Chester County and nearby suburban counties, but also a large variety of artists from Philadelphia, New Jersey, Delaware and the rural towns of Pennsylvania.
More than 80 of these artists will participate in the general show that will include art forms ranging from paintings to jewelry to sculpture. The remaining artists, including a number from Philadelphia, will participate in a special exhibit that is included each year in the show.
This year's focus will be figurative art with a particular emphasis on the human body or body-like forms. Longtime art show volunteer Susan Thompson says she is very excited about this year's focus.
"The caliber of artists participating in our show is always high and the feature exhibit certainly matches that expectation," Thompson said. "I've been involved in art shows for more than 30 years, so I know high quality work when I see it."
Overall, more than 2,000 art pieces will be for sale during the show, held in the McShain-Horstmann Family Life Center at 315 South Warren Avenue in Malvern.
For more information visit malvernretreat.com/artshow.
Win free tickets, help support CatholicPhilly.com
CatholicPhilly.com often partners with our region's top cultural venues. During this two-week period, you can benefit by our association with The Franklin Institute in Philadelphia.
Make a donation of any amount during this period and you will receive two general admission tickets to Philadelphia's premier educational museum -- that's a $60 value.
Use our secure credit card form by clicking the link below. That will enable us to contact you so we can send the tickets, which are valid to September 2018.
Your donation helps us to provide high-quality coverage of the local Catholic communities we primarily serve, while also distributing national and world news of interest to Catholics, plus the orthodox teachings of the Catholic faith. Your gift gift of $40, $50, $100, or more will strengthen the fabric of our entire Catholic community.
Make your donation by credit card here: