By Susanna Coyle • Posted February 27, 2019
Susanna Coyle, a seventh grader at Queen of Angels School in Willow Grove, attended World Youth Day in Panama, which closed Jan. 27. The following reflection was featured in the school's Jan. 31 newsletter. Sister Margaret Rose Adams, I.H.M., school principal, had asked Susanna to write about her pilgrimage and was amazed at the high level of writing that Susanna presented. 
***
My pilgrimage to Panama for World Youth Day was one that will always stay with me and be a part of who I am. It was one filled with memorable moments that make you want to freeze time. All the tips that people had shared with me hadn't prepared me for the heart-pounding excitement that coursed through my veins while trekking through Panama.
On Saturday morning while the sun was still sleeping, I arrived at Dulles International Airport. Taking only a carry-on, I met up with the group that I would be venturing with for five days. After passing security checkpoints, we boarded the plane. I was filled with a rush of excitement, since I got the window seat I had hoped for. From the plane's takeoff to its landing, there were spectacular views of dreamy clouds in the atmosphere, and a view of Cuba as we flew over the ocean.
Five hours flew by and before I knew it we heard the pilot's voice announcing that we were officially over Panama! I grabbed my camera briskly and took photos of Panama City from up above. From the airplane I could see several ships lingering at the foot of the Panama Canal and tall skyscrapers, each one taller than the one before it.
[hotblock]
Getting off the plane, we noticed that much of the airport had pictures of Pope Francis and welcome signs for arriving pilgrims. I was surprised to find that many people in Panama could also speak fluent English.
A hardworking couple organized buses for my group of five and two others to ride in. When I heard that a bus was going to pick us up, I immediately envisioned a bus that one would normally see in Pennsylvania, but I was completely wrong. The bus was painted in a bright green color with flowers painted on the border in every color imaginable. Where I would normally see glass windows there were windows, but without the glass.
After a few minutes outside, the heat started to catch up with me and many others. It was a weird sensation to get on the plane when it was about 15 degrees outside, to arrive in a tropical climate of about 95 degrees. All I had to do was to board a plane to see people's outfits change from winter coats to sunglasses and T-shirts.
The bus took us through a small portion of Panama City with plenty of time to admire the tall palm trees, bright houses, and Spanish signs.
We arrived at the hotel in a hurry, wanting to quickly get going to the grounds of the papal celebration. As soon as we arrived at the hotel we dropped our bags off and received pilgrim kits. These included a transportation pass that could be used for the public metro or public bus. The group chaperone then collected any phones. We met up with another group from the Neocatechumenal Way and stuck together.
[tower]
A bus picked us up at the hotel and transported us to a metro stop where we used our passes. On the bus ride everyone sang, laughed, and joked together. Panama City's efficient transportation was very modern and a metro came every four minutes.
We came to a stop where public transportation could not take us further. Pilgrims flocked the streets, so the buses were unable to take us any closer to the papal site. Keeping all our group members in sight, we walked for six miles! Along the way, we heard street sellers shouting "dollar, dollar" for bottles of water, chorizo (sausage), or other small items like rosaries.
The sun began to set and all the walking had started to wear us down. Just then, we came across a woman who owned a shop much like the others on the street, but this woman was different. She sat beside a huge Gatorade tank and repeated, "Free water refills for pilgrims!" We stopped and she welcomed us with a big smile. Although she had to run into her store to get more cold water, she still helped us all. It was a small act of kindness that helped a lot!
Arriving at the field, we walked in front of gigantic screens showing singers of different cultures and groups of pilgrims raising their national flags. We met up with other groups from Washington, D.C. and Philadelphia, and started to unroll our sleeping bags for a night under the stars. Before officially resigning to sleep, we walked towards a group of youth singing and playing guitars. In several circles surrounding them were people dancing and singing along. Flags from all over the world were being raised high in the air. With midnight quickly approaching, we decided to lay down to rest with the earth under us and wide open sky above us.
Around 6 a.m. an enthusiastic pair came onto the big screen in the field announcing the names of different countries. When they said "U.S.A." everyone around me got up and cheered. The Panamanian police starting locking the gates around us. A few minutes later our assumptions were correct. Pope Francis would be coming in the popemobile.
Since most pilgrims in our site had left prior to the gate closing to get closer to where the Mass would be held, the people I was with joined me in getting closer to the gate. We easily had a good view of the paved path where the pope was expected to pass. We waited a few minutes until we heard loud cheering in the distance. The excitement level rose and the cameras came out. Everyone craned their necks for a good view of the approaching pope. Then, we saw a white vehicle approaching on the horizon. As the pope passed by with hands reaching out to him, an exciting sensation filled me.
When the Mass began, despite the thousands of youth there, everything was silent. Each pilgrim answered the parts of the Mass in their language. During the homily, Pope Francis said: "God chose not to reveal himself as an angel or in some spectacular way, but to give us a face that is fraternal and friendly, concrete and familiar. God is real because love is real; God is concrete because love is concrete… You, dear young people, are not the future but the now of God. He invites you and calls you in your communities and cities to go out and find your grandparents, your elders; to stand up and with them to speak out and realize the dream that the Lord has dreamed for you."
Holy Communion was given to us by volunteers that went to different locations and administered to all the pilgrims.
When the Mass concluded, all of the 75 people that my small group was traveling with started to assemble to prepare to leave. We stood together and each kept a hand on the backpack of the person in front of us. Squeezing through the crowd little by little, we exited the field and into the streets of Panama.
Again, we were greeted by the smells of fried plantain and chorizo in the air. Each home was surrounded by tropical plants and papaya trees and was painted an attractive color resembling the flowers around it. Most homes had drying clothes pinned on lines. Although most of us had not eaten much since before the plane ride, we kept on walking through the neighborhoods outside of Panama City.
Persevering for eight miles with the sun beating on our backs, the sight of the party bus swept a wave of relief throughout our group.
A few hours later, feeling refreshed, we took the metro to a beautiful, scenic part of Panama. We soon learned that this marvelous place was Antigua Panama or Old Panama because there are buildings hundreds of years old there. From the center square in Antigua Panama, we could see the city's skyscrapers across the bay. Old, majestic buildings circled us. There we sang and danced as we did the night before the Mass with the pope.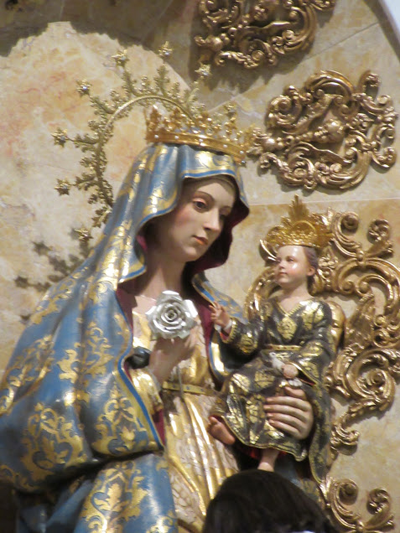 The head of the group then informed us that the church in front of us was the Cathedral Basilica of Santa Maria la Antigua, the patroness of Panama. Only the church's outside appearance was enough to make people stare at its beauty. The inside was breathtaking. On the left side of the basilica stood a statue of Jesus. The tabernacle was regally decorated with artwork on the walls around it. On the right of the church stood a breathtaking statue of Santa Maria la Antigua in colorful robes with stars that seemed to make her face shine. She held Jesus in her arms.
After taking our time exploring and praying in the basilica, we met up outside and we were given money to spend on dinner nearby. I went along with seven other ladies from ages 14 to 24 in search of a good place to eat. Our group leader asked around and located a restaurant that served traditional Panamanian food.
The restaurant was named "Diablicos" referring to a traditional Panamanian dance. The maître d' noticed the girl's shirt beside me which had the logo of the Philadelphia Eagles and told us that he was originally from Philly. He told us that he kept up with the scores and watched their games despite living in Panama. Finding someone from his hometown, he let us use the reserved part of the restaurant since the main part was full.
We looked at the Spanish menu in search of a satisfying meal. I choose a meal called ropa vieja or "old clothes." It consisted of pulled beef, rice with vegetable, and fried plantain. I highly recommend it! One person in our group was from Russia, and she did not know any Spanish. We offered to help her with translating the ingredients, but she declined saying that she was open to anything. She ended up ordering something called "sopa de tripa." Only after eating the soup did she find out that "tripa" were cow intestines. After filling our stomachs with rich Panamanian food we returned to the hotel for three more days on the pilgrimage.
The pilgrimage to Panama was one that I will not forget. I especially enjoyed when on Tuesday afternoon we traveled to a small island where we had a Mass under the palm trees. Each experience was worth learning from and offered many opportunities to smile and have fun.
Thank you for your continuous prayers and support. I pray that your petitions will be answered and that the Lord continues to bless you.
Join the CatholicPhilly.com family
CatholicPhilly.com works to strengthen the connections between people, families and communities every day by delivering the news people need to know about the Catholic Church, especially in the Philadelphia region, and the world in which we live.
By your donation in any amount, you and hundreds of other people become part of our mission to inform, form in the Catholic faith and inspire the thousands of readers who visit every month.
Here is how you can help:
A $100 gift allows us to present award-winning photos of Catholic life in our neighborhoods.
A $50 gift enables us to cover a news event in a local parish, school or Catholic institution.
A $20 gift lets us obtain solid faith formation resources that can deepen your spirituality and knowledge of the faith.
A small, automated monthly donation means you can support us continually and easily.
Won't you consider making a gift today?
Please join in the church's vital mission of communications by offering a gift in whatever amount that you can ― a single gift of $40, $50, $100, or more, or a monthly donation. Your gift will strengthen the fabric of our entire Catholic community and sustain CatholicPhilly.com as your trusted news source. Thank you in advance!
Make your donation by credit card here:
Or make your donation by check:
CatholicPhilly.com
222 N. 17th Street
Philadelphia, PA 19103