By Christopher Chapman • Catholic News Service • Posted February 12, 2016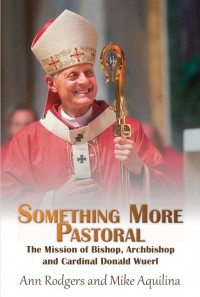 "Something More Pastoral: The Mission of Bishop, Archbishop and Cardinal Donald Wuerl,"
by Ann Rodgers and Mike Aquilina.
Lambing Press (Pittsburgh, 2015).
315 pp., $13.95.
Washington's Cardinal Donald W. Wuerl exemplifies an unusual aspect of the Catholic Church's governance: when most other men and women are retiring and winding down, senior prelates are reaching the zenith of their authority and influence. Although bishops are required by canon law to submit their resignation to the pope at age 75, many work well beyond those years, often wielding clout well into their 80s.
That is a primary reason the authors of this new biography — they actually eschew the label of "biography" in the introduction — caution us that this book is hardly the definitive story of Cardinal Wuerl, who only recently turned 75.
He arguably is America's most important and influential prelate in the midst of the pontificate of Pope Francis. Indeed, Basilian Father Thomas Rosica, CEO of Salt and Light Television Network in Canada and an English-language assistant to the Holy See Press Office, says: "He (Cardinal Wuerl) is one of the most articulate interpreters of who Francis is and what Francis is doing."
Though not definitive, this book gives a thorough overview of the many initiatives and events in the life of Cardinal Wuerl, former bishop of Pittsburgh and Washington's archbishop since 2006. For anyone seeking a solid introduction to the cardinal, this book offers a great beginning. Moreover, it also offers a window — not the only one, but definitely a window — into the life of the American Catholic Church over the past four or five decades.
Two words that appear as motifs in the story of Cardinal Wuerl are "moderate" and "pastoral," the second so central as to be included in the title.
It becomes clear in chapter after chapter that Cardinal Wuerl has consistently tried to chart a course of episcopal leadership that steers clear of extreme positions. Only in cases that he deemed most clear and urgent, such as priests found guilty of abusing minors, was there deviation from this course. This "middle road" will no doubt be a topic of debate in more critical biographies and histories yet to be written, but in this volume it stands as one of the defining characteristics of Cardinal Wuerl.
Indeed, one of the reasons that it is important to think about the episcopacy of Cardinal Wuerl is that there is a discernible philosophy at work. Amid his dizzying array of initiatives, committees and ministries, which really do demand a book-length treatment, a clear line of thinking and action emerges.
Cardinal Wuerl is hardly the only influential American Catholic bishop of the past few decades, but he is the best example of a certain kind of engagement with the world and the church that has become known as "moderate" and/or "pastoral."
Work in the church as long as Cardinal Wuerl has and it is impossible to avoid controversy. Accordingly, the authors revisit his tumultuous early years in Seattle, where he served as an auxiliary bishop to Archbishop Raymond G. Hunthausen.
An apostolic investigation into complaints about Archbishop Hunhausen's leadership led the Vatican in 1986 to order him to turn over some authority to his auxiliary bishop. A public outcry led to a review of the situation by three U.S. bishops appointed by the Vatican; in 1987, on their recommendation, the Vatican restored Archbishop Hunthausen's full authority. In 1988, then-Bishop Wuerl was named to Pittsburgh.
Ann Rodgers and Mike Aquilina also give a glimpse into the restructuring of the Diocese of Pittsburgh in the late '80s and early '90s, reveal what Cardinal Wuerl did to deal with abusive priests and how he handled the eventual explosion of that same story on the national scene in the early 2000s.
A whole chapter is dedicated to the "Difficult Issues" highlighted by the debate of wayward Catholic politicians and whether they should be denied holy Communion. None of these prominent issues are sidestepped, although none are dealt with from a critical perspective. The book very much presents the cardinal's side of things, with no counter viewpoints.
In a different light, the book offers glimpses of the many initiatives that Cardinal Wuerl has undertaken and has been involved with to bring about renewal in the church, often in relation to what we usually refer to as the new evangelization. His well-documented advocacy for Catholic education, his establishment of the Extra Mile Education Foundation and other serious, long-term financial investments in Catholic education are documented.
His desire to have more people visit the confessionals, his interreligious work, and his vast array of contacts and friends also come to the fore. The amount of information covered more than confirms Cardinal Wuerl's reputation for hard work and long hours.
"Something More Pastoral" is a lengthy but easy read. Rodgers and Aquilina provide a journalistic-style review of the impressive and noteworthy career of an American prelate who continues to sit front and center in the unfolding story of American Catholicism. Now that he is recognized by many as one of the foremost interpreters of the papacy of Pope Francis, he is, even at 75, all the more important to know and understand.
***
Chapman is Pittsburgh Diocese's director of pre-K through 12th-grade catechesis.
Help keep Catholic media free, support CatholicPhilly.com
You may have noticed "pay walls" greeting you when you visit the websites of newspapers and magazines, both large and small. These mechanisms allow you to read a few articles for free before you've got to pay an annual fee if you want to see more.
You won't find a pay wall on CatholicPhilly.com because we're more than a news organization. We're informing, inspiring and forming readers in the Catholic faith every day through the news, features and commentaries that we post on this site and share across social media.
It costs money to provide high-quality coverage of the local Catholic communities we primarily serve, while also distributing national and world news of interest to Catholics, plus the orthodox teachings of the Catholic faith.
Help us in this mission by making a single gift of $40, $50, $100, or more. Your gift will strengthen the fabric of our entire Catholic community.

Make your donation by check:
CatholicPhilly.com
222 N. 17th Street
Philadelphia, PA 19103

or by credit card: