By Graham Yearley • Catholic News Service • Posted March 4, 2016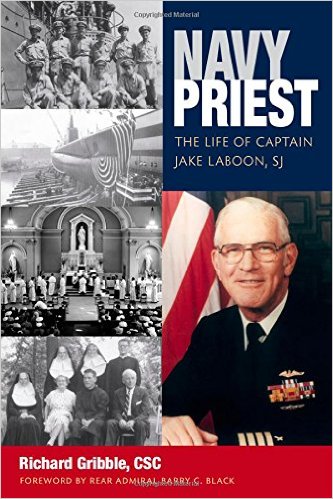 "Navy Priest: The Life of Captain Jake Laboon, SJ"
by Richard Gribble, CSC.
Catholic University of America Press (Washington, 2015).
358 pp., $29.95.
Holy Cross Father Richard Gribble's "Navy Priest" is a biography of Jesuit Father John F. "Jake" Laboon, who held the rank of captain and served as a chaplain for the U.S. Navy for 22 years. Father Laboon grew up in Pittsburgh, one of nine children, five of whom would grow up to be priests and/or members of religious orders.
An indifferent student, young John always found success on the playing fields, especially in football and lacrosse. He entered the U.S. Naval Academy directly from high school during the early years of America's entry into World War II. After finishing an accelerated course of study at the academy in Annapolis, Maryland, and attending training for submarine duty in New London, Connecticut, he reported for active duty Jan. 15, 1944.
Then-Lt. Junior Grade Laboon was assigned to the USS Peto and went on eight tours of duty of several months each on the submarine. Their assignment started as a mission to destroy large military ships or ships carrying supplies to Japan, but the mission was widened to include boats as small as sampans, a development that troubled the young lieutenant but one he eventually accepted as part of a naval officer's obedience to orders.
On July 24, 1945, a few weeks before the surrender of Japan, the Peto was alerted that there were two downed airmen in their region. One was rescued easily, but the other pilot was floating in the water within range of Japanese fire. Warned that the Peto might have to move on if the enemy fire was too great, Lt. Laboon jumped into the water anyway and towed the pilot to the submarine. For his heroism, he was awarded the Silver Star.
He resigned his commission in 1946 and entered the Jesuit seminary in Wernersville, Pennsylvania, on Oct. 31 of that year. He would spend the next 10 years preparing for the priesthood with the hope of becoming a teacher in a Jesuit high school. He was ordained in 1956, but upon finishing his final studies in 1958, Father Laboon found himself torn between becoming a teacher or serving as a Navy chaplain. He chose the Navy and served for more than two decades as a chaplain in posts as varied as Alaska, the Naval Academy and Vietnam.
He left the Navy in 1980 after a distinguished career. Nonetheless, Father Laboon was disappointed to have not been made a rear admiral or been appointed as the chief of chaplains. He served for some years as a retreat master at Manresa-on-Severn across the river from the Naval Academy and oversaw the renovation of Manresa.
His final assignment was as pastor at St. Alphonsus Rodriguez in Woodstock, Maryland. He was a popular parish priest and oversaw the construction of several new buildings on the church's property. Sadly, Father Laboon was diagnosed with throat cancer in January 1988. He continued to serve as pastor as long as he could, but on Aug. 1 of that year while being nursed by his three sisters, all Sisters of Mercy, he succumbed to the disease. The USS Laboon, commissioned in 1995, was named for him.
While the life of Father Laboon was interesting, "Navy Priest" was not. Most chapters begin with a background sketch on several topics including a history of Pittsburgh, the causes of the Vietnam War and the development of the Second Vatican Council. Some of these sketches are well written, but consistently, the author, Father Gribble, fails to connect the background material to Father Laboon's life.
Because most of the biographical material is from interviews with people who served with him in the Navy or were students or family members of Father Laboon, the book becomes an endless stream of adulation. The reader gets a portrait of Laboon as a star athlete, a priest dedicated to serving others, an exemplary naval officer and genuine American hero, but not as a person who wrestles with moral dilemmas, doubts or failures. Consequently, Father Laboon doesn't seem quite human. Still, Father Gribble has reintroduced a man who deserves our attention, especially in this time when heroes seem in short supply.
***
Yearley is a graduate of the Ecumenical Institute of St. Mary's Seminary and University in Baltimore.
Win free tickets, help support CatholicPhilly.com
CatholicPhilly.com often partners with our region's top cultural venues. During this two-week period, you can benefit by our association with The Franklin Institute in Philadelphia.
Make a donation of any amount during this period and you will receive two general admission tickets to Philadelphia's premier educational museum -- that's a $60 value.
Use our secure credit card form by clicking the link below. That will enable us to contact you so we can send the tickets, which are valid to September 2018.
Your donation helps us to provide high-quality coverage of the local Catholic communities we primarily serve, while also distributing national and world news of interest to Catholics, plus the orthodox teachings of the Catholic faith. Your gift gift of $40, $50, $100, or more will strengthen the fabric of our entire Catholic community.
Make your donation by credit card here: