By Mary Stachyra Lopez • Catholic News Service • Posted May 13, 2016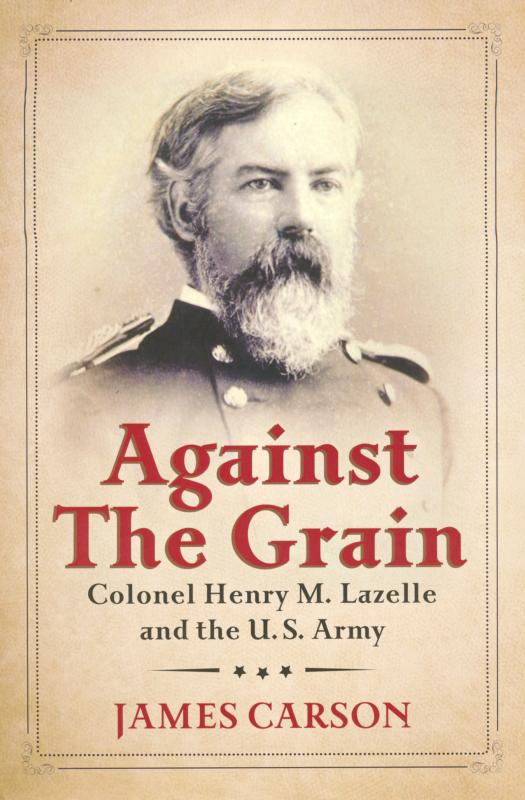 "Against the Grain: Colonel Henry M. Lazelle and the U.S. Army"
by James Carson.
University of North Texas Press (Denton, Texas, 2015).
432 pp., $32.95.
As a retired research analyst for the CIA, James Carson knows how to dig up secrets. But even Carson was surprised by some of the facts that turned up when he decided to research and write a book about the life of his great-grandfather, U.S. Army Col. Henry Lazelle.
Carson grew up hearing stories about Lazelle from his mother, who was only 10 years old when the colonel died. In her eyes, Lazelle was a heroic figure who scouted across the Wild West with Kit Carson, fought for the Union during the Civil War and retired after nearly four decades in the military.
It turned out that the story wasn't quite that clear-cut. While Lazelle had a formidable intellect, wrote articles on military strategy and served as commandant of cadets at West Point, he was known for overstepping boundaries and had a hand in several notorious incidents in Army history.
"Delving into his story, he was not a hero. He had very little respect for his superiors and challenged the system," said Carson, who served in the Army Reserve for 20 years and retired as a lieutenant colonel. He is a longtime parishioner of St. Mark Catholic Church in Vienna, Virginia, in the Diocese of Arlington.
Carson's book, "Against the Grain: Colonel Henry M. Lazelle and the U.S. Army," is written with the detail and discipline of a scholar. The book examines Lazelle's exploits chasing Mosby's Rangers throughout northern Virginia, brutal operations against the Apaches in the Southwest and the infamous court-martial of an African-American cadet at West Point.
One of Lazelle's early missions was chasing a band of Apaches with the legendary scout Carson in "desolate and inhospitable parts" outside of Santa Fe, New Mexico. After dining on an antelope they shot near a small spring, the two agreed to alternate standing guard every two hours throughout the night. Lazelle took first watch to be on the lookout for the dangerous animals that would surely be attracted by the smell of the leftover meat.
He promptly fell asleep. The two men were awakened by a band of hungry jaguars and a grizzly bear approaching the camp. Carson took the lead by firing his gun to scare off the cats and shoot the bear — and Lazelle scampered up a tall cactus to take cover.
Other stories are not so lighthearted. Lazelle's journal in New Mexico revealed an anti-Catholic prejudice common among many people in his day. He wrote in his journal, "God forbid that those whom I love should be Roman-Catholics." Carson wryly writes in a footnote, "Lazelle's great-grandson, the author, married one of those hated Roman Catholics and became one himself."
And while Lazelle personally viewed slavery as morally repugnant, his racist opinions influenced his professional judgment in an ugly way after a former slave, Johnson Whittaker, was viciously attacked at West Point. As commandant of cadets, Lazelle's job was to investigate the affair. All the cadets claimed to be innocent. Lazelle found it "utterly improbable" that civilians would have attacked Whittaker — so his formal conclusion was that the cadet had self-inflicted his own bloody wounds. Whittaker was court-martialed, and though eventually exonerated, had to leave the academy.
The incident has been examined at length in many scholarly works, but Carson's book is the first to look at the incident from Lazelle's point of view. The book "doesn't attempt to whitewash it," Carson said. "It was a huge travesty. All of the typical attitudes of the white establishment came out in this particular case."
Finding out the role Lazelle played in Whittaker's mistreatment by the Army was difficult, Carson said.
"I had to put my own personal feelings aside and provide an objective portrayal about him without being subjective," he said. "That was hard because I had to accept in my own mind that this was a very different individual than what I had pictured."
***
Stachyra Lopez is social media coordinator at the Arlington Catholic Herald, newspaper of the Diocese of Arlington.
Help keep Catholic media free, support CatholicPhilly.com
You may have noticed "pay walls" greeting you when you visit the websites of newspapers and magazines, both large and small. These mechanisms allow you to read a few articles for free before you've got to pay an annual fee if you want to see more.
You won't find a pay wall on CatholicPhilly.com because we're more than a news organization. We're informing, inspiring and forming readers in the Catholic faith every day through the news, features and commentaries that we post on this site and share across social media.
It costs money to provide high-quality coverage of the local Catholic communities we primarily serve, while also distributing national and world news of interest to Catholics, plus the orthodox teachings of the Catholic faith.
Help us in this mission by making a single gift of $40, $50, $100, or more. Your gift will strengthen the fabric of our entire Catholic community.

Make your donation by check:
CatholicPhilly.com
222 N. 17th Street
Philadelphia, PA 19103

or by credit card: