By Mark Pattison • Catholic News Service • Posted March 17, 2017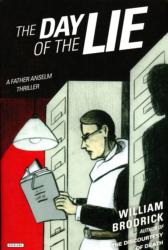 WASHINGTON (CNS) — Even though William Brodrick gave up the monastic life in the Augustinian order, just before priestly ordination, to be a lawyer, another call also had been tugging at him. It was persistent, and it didn't let go.
Finally, after 10 years as an attorney, he put pen to paper and started writing what would be the first of six "Father Anselm" novels, which have proven popular in Europe and are only now gaining a toehold in the United States.
Father Anselm is a Gilbertine monk in England, but he often gets the approval of the monastery's superior to travel throughout Europe as long-dormant issues rise to the fore, causing great dilemmas for nearly all parties years later. Two novels in the series, although set in the present, deal with the Holocaust and with Soviet oppression in Poland.
"His task is as much to understand as it is to solve," said the British-born Brodrick, 57, in a telephone interview with Catholic News Service from France, where he and his family live across the street from a cathedral whose patron is the book series' namesake. The books are called "thrillers," to distinguish them from other crime and detective genres, although Brodrick noted the Father Anselm books might be a different breed altogether.
"They don't follow the strict conventions of any particular genre. And I think that's the sort of books I wanted to write," he said. "Like John LeCarre, what I like about any psychologically charged novel was the fact that there was an intervention, the fact that it was unresolved, and the fact that it was critically important to find out what's going on. At the same time, I wanted to find it (as) a literary novel, reflective, trying to understand these very dilemmas. That slows down the thriller, that slows down the mystery."
Brodrick said there's an undeniable attraction to the subgenre of clergy solving crimes ranging from Brother Cadfael to Father Brown.
"When you have a character who steps back in the monastic setting — no longer living in their city," Brodrick told CNS, "he brings a certain type of question to the probe he's resolving: the crisis at the center of the novel. He's not just going to find out who killed someone. He's going to be asking questions about the motivation that wouldn't feel right coming from another kind of investigator.
"He's not trying to solve any particular personal demons," he added. Father Anselm, Brodrick said, is "more interested in the subject than the crime," even if the subject is the criminal, "in fullness and redemption and hope and meaning."
In the Father Brown stories by G.K. Chesterton, "crimes are going to be resolved, and Father Brown or Chesterton is going to flick in something here or there," Brodrick said. "I wanted to take something that would be a big theme and the conventions of the thriller or crime fiction and weld it or use that to also explore some fairly significant questions that trouble everybody." One Father Anselm novel, he noted, dealt with mercy killing.
"I remember my mum saying, "Don't write anything unless you've got something to say," Brodrick recalled. "I was approaching 40. I was married, had three children, and If I didn't decide to try and write, regardless of whether it was worthwhile, I'd regret it for the rest of my life."
Brodrick chose Anselm for his hero's name because of St. Anselm, who coined the phrase "faith seeking understanding." "That's what the great enterprise is, not understanding seeking faith," he said. "We're already going to investigate and try to understand and see God in a vaguely secular context Anselm's not going out there to theologize. He has faith in humanity, he has belief in justice. He has faith in redemption. All these books are meditations on redemption."
Brodrick said there has been some interest in bringing Father Anselm to television or the movies, but nothing is signed. Ironically, as Father Anselm is poised to make his mark on America, Brodrick is giving his lead character a rest. "It's been a voyage, and I might come back to him," he added, "but he's gone quiet for now."