By Chris Byrd • Catholic News Service • Posted March 6, 2018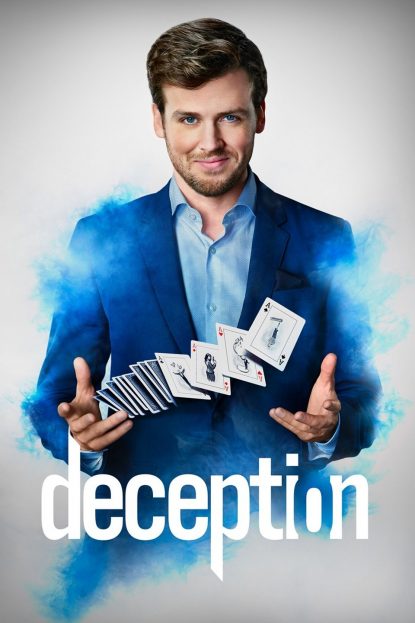 NEW YORK (CNS) — Marginally original — and diverting — the ABC drama "Deception" debuts Sunday, March 11, 10-11 p.m. EDT, and will air in that slot throughout the course of its 13-week run as a mid-season replacement.
The series is marked by some violence, including gunplay and explosions, mature themes, slightly offensive language and mild sexuality. None of this material is excessive, so "Deception" makes suitable viewing for adults and adolescents.
The opening of the series introduces viewers to Las Vegas magician Cameron Black (Jack Cutmore-Scott) as he's attempting a risky escape that only the great Houdini mastered. Black's live performance is being simulcast to a national television audience.
His stage manager, Gunter Gastafsen (Vinnie Jones), is among those vociferously urging Black to abort his undertaking after things appear to go gravely awry. Black's twin brother, Jonathan (also Cutmore-Scott), however, turns out to be his sibling's fail-safe ace in the hole, salvaging any apparently failed illusion.
Appearing as himself alongside his always-silent partner, Teller, popular magician Penn Jillette criticizes the brothers for the ethical transgression this false ratcheting up of tension involves. The one thing a magician shouldn't do to his audience, Penn says, is "lie to them."
A fatal traffic accident reveals the brothers' falsehood, and implicates Jonathan in a woman's death. But Cameron is convinced another illusionist has framed his brother, and he soon becomes determined to clear his Jonathan's name.
A year later, disgraced and no longer performing, Cameron watches news coverage of the daring escape from FBI custody of drug cartel commander Felix Ruiz (Elliot Villar). The footage convinces him that the same illusionist who made Jonathan appear guilty helped Ruiz gain his freedom.
So, hoping to bring his brother's nemesis to justice, Cameron offers to help the authorities recapture Ruiz.
The officer supervising the investigation, Special Agent Deakins (Laila Robins), initially resists Cameron's proffer. But the magician manages to win over another agent, Kay Daniels (Ilfenesh Hadera). She agrees to employ his magic show crew as a deception team to assist the FBI with future cases.
Cutmore-Scott and Hadera are slowly developing a nice rapport, which may help "Deception" increase its audience over time.
As viewers might easily anticipate, each episode of the series begins with an elaborate magic-show set piece. But the follow-up isn't always sufficiently rewarding. An episode involving a Russian crime syndicate's manipulation of reality show participants, whom they transform into the unwitting dispensers of poison to their enemies, for example, is just as flat and preposterous as it sounds.
An inside-job art heist plotline works much better, showcasing the impressive use of magic to foil the conspirators — a feature that may represent "Deception's" primary appeal going forward.
British actor Cutmore-Scott ("Dunkirk") portrays his two Middle Americans convincingly, with each brother retaining a distinct personality. Thus, while Cameron was always more comfortable on stage, Jonathan was the "disappearing boy" who felt trapped inside his brother's world.
The sons of famous magician Sebastian, the siblings' history, tension and resentments should figure prominently in the show's evolution. How this conflict plays out, especially if Jonathan lingers in prison, may be compelling enough to sustain viewers' interest.
Created by Chris ("Chuck") Fedak, "Deception" has been paired with the reboot of "American Idol." A decade ago, being aligned with the granddaddy of reality performing shows would have guaranteed strong ratings for any program.
"Deception," moreover, is just the kind of escapist fare, which, in theory at least, should make for a good match with "American Idol." Whether the latter series still retains the kind of coattails that will assure ratings success for any show slotted to follow it, however, remains to be seen.
With all the viewing options that have recently become available, it's also open to question whether "Deception" is original and compelling enough to succeed in a crowded field. There are, undoubtedly, worse series than this being broadcast or streamed, but there are certainly better ones around as well.
***
Byrd is a guest reviewer for Catholic News Service.
Win free tickets, help support CatholicPhilly.com
CatholicPhilly.com often partners with our region's top cultural venues. During this two-week period, you can benefit by our association with The Franklin Institute in Philadelphia.
Make a donation of any amount during this period and you will receive two general admission tickets to Philadelphia's premier educational museum -- that's a $60 value.
Use our secure credit card form by clicking the link below. That will enable us to contact you so we can send the tickets, which are valid to September 2018.
Your donation helps us to provide high-quality coverage of the local Catholic communities we primarily serve, while also distributing national and world news of interest to Catholics, plus the orthodox teachings of the Catholic faith. Your gift gift of $40, $50, $100, or more will strengthen the fabric of our entire Catholic community.
Make your donation by credit card here: