Posted December 6, 2011
Books
Between Heaven and Mirth: Why Joy, Humor, and Laughter Are at the Heart of the Spiritual Life, by Father James Martin; Harper One $25.99
Click here to read review by Lou Baldwin

* * *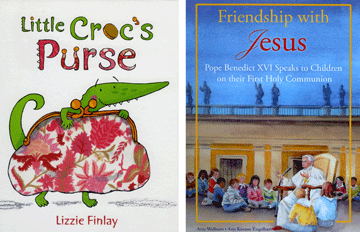 Black & White: The Confrontation Between Reverend Fred L. Shuttlesworth and Eugene 'Bull' Connor, by Larry Dane Brimner. Boyds Mill Press (Honesdale, Pa., 2011). 112 pp., $16.95.
Drama, conflict, adventure, marches, police, Ku Klux Klan — all these elements are contained in this nonfiction history of one the big civil rights battlegrounds: Birmingham, Ala. The tale, told in a fairly straightforward manner from both sides, is gripping in itself, and the author even includes the stories of the children's march on Birmingham. Excellent use of photos — some quite dramatic — from the 1960s, pull-out quotes and the use of black and white add to the graphic attraction of this book. Ages 12-up.
Friendship With Jesus: Pope Benedict XVI Speaks to Children on Their First Holy Communion, edited by Amy Welborn, illustrated by Ann Kissane Engelhart. Ignatius Press (San Francisco, 2011). 32 pp., $14.95.
This simple, faith-filled "conversation" is based on a chat Pope Benedict had with children in St. Peter's Square. Engelhart's watercolors beautifully illustrate the questions and answers — not just related to Communion — that Welborn has chosen, and adults might find themselves inspired if they read aloud to their second-graders preparing for the Eucharist. Ages 7-10.
Secrets of Siena, written by Dianne Ahern, illustrated by Bill Shurtliff. Aunt Dee's Attic Inc. (Ann Arbor, Mich., 2011). 131 pp., $12.95.
This book, another in the adventures of Sister Philomena, has humor and mystery, but its main appeal is its travelogue- and history-in-disguise. The adventure of a young boy and girl spending the summer with their aunt, a nun, takes them from Rome to Siena to Avignon, France. Ahern does a delightful job of weaving in cultural and historical details with real-kid impressions that will keep young readers turning the pages. Ages 8-11.
Little Croc's Purse, written and illustrated by Lizzie Finlay. Eerdman's Books for Young Readers (Grand Rapids, Mich., 2011). 32 pp., $14.99.
Finlay's humorous, colorful illustrations will draw in the listener, but her text sends a subtle, nonpreachy message about values: honesty and resisting peer pressure. Little Croc finds a purse with money and turns it in to police, but not before being tempted by other options. Ages 4-7.
Dragon Slayers: The Essential Training Guide for Young Dragon Fighters, by Sir Wyvern Pugilist. Paraclete Press (Brewster, Mass., 2011). 224 pp., $23.99.
This book will not have mass appeal, but young readers who love fantasy can immerse themselves in a parallel world of slaying dragons — bad things, obstacles to good. Sir Wyvern holds up as examples the chief dragon slayer (God) and other prominent slayers (the saints). The author's engaging story-telling, occasional bravado and clever analogies will draw in the reader, and his low-key humor will help keep them turning pages. Maps and illustrations add to this book's appeal. Younger children will enjoy the fantasy but will need help reading this. Ages 6-12.
Snowflake Baby, by Elise Broach, illustrated by Cori Doerrfeld. LB Kids (New York, 2011). 14 pp., 7.99.
If I had to pick one book for toddlers, this would be it! Simple two- and three-word sentences and fun, bright illustrations fill this cardboard book, good for little hands. It has seven lift-flaps to peek under, too. Adult readers, brace yourself: This is one of those books that will end with the child request of "Again!" Ages 6 mos.-3.
The Fingertips of Duncan Dorfman, by Meg Wolitzer. Dutton Children's Books (New York, 2011). 294 pp., $16.99.
Wolitzer has woven a clever tale of young characters, each with his own conflicts and accomplishments. Like in Scrabble, she builds the pieces of the plot off each other, until they all come together at a national Scrabble tournament in Florida. This is an excellent read: part about growing up, part just adventure. Bonus: occasional Scrabble tips. Ages 10-13.
Video Games
"Gears of War 3" (Microsoft)
This violent, vulgar third installment of the popular franchise revolves around the final chapter in the long saga of a character named Marcus Fenix, and of his fight with the force that has infected his home planet, Sera. Technical refinements relying on a third-person perspective and providing an impressive degree of mobility only serve to adorn a combat adventure whose main attraction seems to consist in offering players the opportunity to blow their virtual opponents' brains out. Strictly for the least squeamish and most mature. Strong continuous violence with gore, profanity, pervasive sexual references, frequent rough and crude language. The Catholic News Service classification is L — limited adult audience, games whose problematic content many adults would find troubling. The Entertainment Software Ratings Board rating is M — mature.
"FIFA Soccer 12" (Electronic Arts)
The latest installment of the successful soccer franchise ranks as a minor, but ultimately healthy, upgrade. With improvements to the fundamental match engine that include a new defense system and impact engine, as well as a scattering of new modes and graphical flourishes, this edition offers enough of a refinement that hardcore soccer fans will be willing to make the investment. Those with no more than a casual interest in the beautiful game may feel differently, however. So too may parents on a budget, given that certain features require additional payments through the console. The Catholic News Service classification is A-I — general patronage. The Entertainment Software Rating Board rating is E — Everyone.
"Rage" (Bethesda Softworks/Id)
Unrelentingly grim, pointlessly violent driving/shooting game, set in a post-apocalyptic world, in which players explore the ruins of civilization, perform quests and either fight or race against myriad mutants, criminals and thugs. Though fuelled aesthetically by sophisticated graphics technology, morally, it's running on empty. Pervasive graphic violence with gore, including decapitations and dismemberment, occult themes, extensive use of foul language. The Catholic News Service classification is O — morally offensive. The Entertainment Software Ratings Board rating is M — Mature.
"Spiderman: Edge of Time" (Activision)
Despite an intriguing premise, this time-traveling web-'em-up, which features both the Amazing Spiderman and Spiderman 2099, is hobbled by a linear, unimaginative setting and a button-mashing style of combat. While at least one of its themes — that human beings should be wary of trying to play God — will be welcomed by gamers of faith, other elements, particularly a central character that exudes overt sexuality, are inappropriate for a game aimed at youngsters. Frequent but mild cartoon violence, some sensuality, occasional innuendo. The Catholic News Service classification is A-II — adults and adolescents. The Entertainment Software Rating Board rating is T — Teen.
"Madden NFL 12" (EA Sports)
This installment of the franchise that originated with 1988's "John Madden Football" is heavily interactive, and contains a myriad of customizable features that allow fans to experience the intensity and competitive atmosphere of the NFL. There's a rather steep learning curve, and it might take a while for children or gamers who don't know enough about football to play at an engaging level. More significantly, the music included contains some very questionable content, though the soundtrack can easily be eliminated via the 'settings' options. Earthy song lyrics. Game experience may change during online play. The Catholic News Service classification is A-II — adults and adolescents. The Entertainment Software Ratings Board rating is E — Everyone.
"X-Men: Destiny" (Activision)
Mildly entertaining action role-playing game in which the X-Men and their traditional adversaries, the Brotherhood of Mutants, face a common enemy: the mutant-hating Purifiers. Though this iteration of the franchise promises players the opportunity to choose their character, select that character's special powers, and even shape — as the title suggests — their chosen persona's ultimate destiny, it fails to deliver on its pledges since the plot remains unaltered by which side the gamer chooses to support. Brief references to religion and metaphysical subjects point to, at best, a confused view of these matters on the part of the designers. Some profane language and crude humor and at least one crass innuendo. The Catholic News Service classification is A-III — adults. The Entertainment Software Ratings Board rating is T — Teen.
"Solatorobo: Red the Hunter" (Namco Bandai)
Enjoyable, if slightly peculiar, action-RPG for the Nintendo DS about an anthropomorphic dog named Red Savarin who is tasked with preventing the destruction of the land of Shepherd. Varied quests, addictive side missions and colorful environments compensate for a complex story line that doesn't know when to stop. Despite its dabblings with various mythological cliches and one or two bizarre characters, Solatorobo is a game that is suitable for most Catholics as long as they have patience for a tiresome plot filled with mythological hokum. Fantasy violence, mild language, suggestive themes, an implied premarital situation. The Catholic News Service classification is A-II — adults and adolescents. The Entertainment Software Rating Board rating is Everyone 10+.
* * *
Recent DVD and Blu-Ray releases
"Kit Kittredge: An American Girl" (Deluxe Edition; 2008)
Charming chronicle of a 10-year-old aspiring reporter's (Abigail Breslin) experiences during the Great Depression, as her father (Chris O'Donnell) leaves home to seek work, her mother (Julia Ormond) takes in a collection of colorful boarders (Joan Cusack, Glenne Headly, Zach Mills and Colin Mochrie, among others) and she endeavors to sell articles to the local editor (Wallace Shawn) and to clear a homeless teen (Max Thieriot) accused of theft. Director Patricia Rozema's warm, pleasingly innocent adaptation of the titular children's stories presents a somewhat sanitized Waltons-style view of the era, but it fosters persistence, opposes stereotyping and will likely hit a bull's-eye with targeted tweens. The Catholic News Service classification is A-I — general patronage. The Motion Picture Association of America rating is G — general audiences. All ages admitted. (New Line Home Video)
"Larry Crowne" (2011)
Suddenly fired from his longtime job as a clerk at a chain store, a middle-aged suburbanite (Tom Hanks) enrolls in his local community college, joins a student scooter-riding club (led by Gugu Mbatha-Raw and Wilmer Valderrama) and falls for one of his professors (Julia Roberts). Hanks, who also directed and co-wrote the script, creates a generally genial, low-key romantic comedy with a hopeful starting-over theme. But the second chances on offer include problematic marital mulligans since Hanks' character has recently been divorced, while his instructor is still in the process of splitting from her lazy, porn-obsessed spouse (Bryan Cranston). Brief nongraphic but adulterous sexual activity, acceptability of divorce, pornography theme with fleeting suggestive images, a bit of sexual humor, at least one instance of profanity, and a couple of rough and some crass terms. Spanish titles option. The Catholic News Service classification is A-III — adults. The Motion Picture Association of America rating is PG-13 — parents strongly cautioned. Some material may be inappropriate for children under 13. (Universal Studios Home Entertainment; also available on Blu-ray)
"Bolt" (2008)
The canine star of a TV show (voice of John Travolta), raised to believe he has superpowers and that the program on which he continually rescues his beloved owner (voice of Miley Cyrus) is real, is accidentally shipped cross-country and must make his way back with the help of a streetwise cat (voice of Susie Essman) and an enthusiastic hamster (voice of Mark Walton). Directors Chris Williams and Byron Howard's endearing animated adventure, which sees its hero learning to believe in himself and his companions — especially the formerly selfish feline — discovering the value of friendship and teamwork, has chase sequences and cartoon action that might frighten the youngest children, but is otherwise unobjectionable. Spanish language option. The Catholic News Service classification is A-I — general patronage. The Motion Picture Association of America rating is PG — parental guidance suggested. Some material may not be suitable for children. (Walt Disney Studios Home Entertainment; also available on Blu-ray)
"G-Force" (2009)
3-D fantasy adventure, combining live action and animation, in which a team of three guinea pigs (voices of Sam Rockwell, Tracy Morgan and Penelope Cruz) and a mole (voice of Nicolas Cage), all trained and equipped as government agents by an innovative scientist (Zach Galifianakis), work to foil the plans of a sinister industrialist (Bill Nighy) bent on world domination. As directed by Hoyt H. Yeatman Jr., this exuberant, at times spectacular, rodent romp portrays the crime-fighting team, which eventually includes an enthusiastic but inept pet-store guinea pig (voice of Jon Favreau), as an improvised family, sustained by cooperation, self-sacrifice and forgiveness; these are positive lessons for all but the most impressionable viewers, who might be frightened by repeated scenes of peril. Spanish titles option. The Catholic News Service classification is A-I — general patronage. The Motion Picture Association of America rating is PG — parental guidance suggested. Some material may not be suitable for children. (Walt Disney Studios Home Entertainment; also available on Blu-ray)
"Harry Potter and the Deathly Hallows: Part 2" (2011)
One of the most successful movie franchises of all time goes out in style with director David Yates' gratifying wrap-up to a decade of blockbuster adaptations. As the titular wizard (Daniel Radcliffe), now grown to maturity, continues to battle his evil nemesis, Lord Voldermort (Ralph Fiennes), he's once again aided in the epic struggle by his two closest friends (Rupert Grint and Emma Watson). Many of the symbols and themes in the narrative, based on the last volume of J.K. Rowling's run of phenomenal bestsellers, echo Scripture and comport with Judeo-Christian beliefs. Too intense for the youngest viewers, the fantasy — which manages to strike notes both elegiac and exciting — is acceptable for most others. Much action violence, brief gory images, a single crass term. Spanish language and titles options. The Catholic News Service classification is A-II — adults and adolescents. The Motion Picture Association of America rating is PG-13 — parents strongly cautioned. Some material may be inappropriate for children under 13. (Warner Home Video; also available on Blu-ray)
"Little Big Man" (1970)
Dustin Hoffman as the sole survivor of Custer's Last Stand relives the story of his life and times on the frontier. Although not tightly conceived or executed, director Arthur Penn's large canvas provides a major overview of the Old West and its conflicts between Indians and pioneers. The Catholic News Service classification is A-III — adults. The Motion Picture Association of America rating is PG-13 — parents strongly cautioned. Some material may be inappropriate for children under 13. (Paramount Pictures Home Entertainment; also available on Blu-ray)
"Meet Me in St. Louis" (Special Edition; 1944)
Nostalgic musical placed in St. Louis on the eve of the 1903 World's Fair celebrates the old-fashioned virtues of close-knit family life as domestic complications beset parents (Leon Ames and Mary Astor), grandpa (Henry Davenport), teenage daughter (Judy Garland) and the boy next door (Tom Drake). Director Vincente Minnelli lightens the sentiment with good-natured humor. Judy's numbers include "The Trolley Song" and "Have Yourself a Merry Little Christmas," and tiny Margaret O'Brien steals the show with her Halloween pranks. Appealing family fare. The Catholic News Service classification is A-I — general patronage. Not rated by the Motion Picture Association of America. (Warner Home Video; also available on Blu-ray)
"My Fair Lady" (Blu-ray Edition; 1964)
Screen version of the Lerner and Loewe musical based on George Bernard Shaw's play, "Pygmalion," in which an egotistical professor (Rex Harrison) makes a bet that he can transform the cockney speech and manners of a London flower girl (Audrey Hepburn) well enough for her to pass for a lady at the upcoming royal ball. Predictably, it is not always the professor who gives the lessons. George Cukor's nimble direction, Cecil Beaton's stunning sets and costumes, the charming performances and the wonderful music add up to splendid family entertainment. The Catholic News Service classification is A-I — general patronage. The Motion Picture Association of America rating is G — general audiences. All ages admitted. (Paramount Pictures Home Entertainment)
"West Side Story" (50th Anniversary Blu-ray Edition; 1961)
Rousing Broadway musical, with choreography by Jerome Robbins and music by Leonard Bernstein, is a contemporary, inner-city adaptation of the classic Romeo and Juliet theme, with Richard Beymer and Natalie Wood playing the star-crossed lovers set apart ethnically and by their opposing street gang backgrounds. Directed by Robert Wise, the picture captures the grit of life in the city's lower depths, with glimmers of hope and elements of tragedy in a delicate balance, carried along by song and the dance numbers that pulsate with energy and verve. Some of the social issues, relationships and street language, however, require a mature perspective. Spanish titles option. The Catholic News Service classification is A-III — adults. Not rated by the Motion Picture Association of America. (MGM Home Entertainment)