By Daniel S. Mulhall • Catholic News Service • Posted July 1, 2016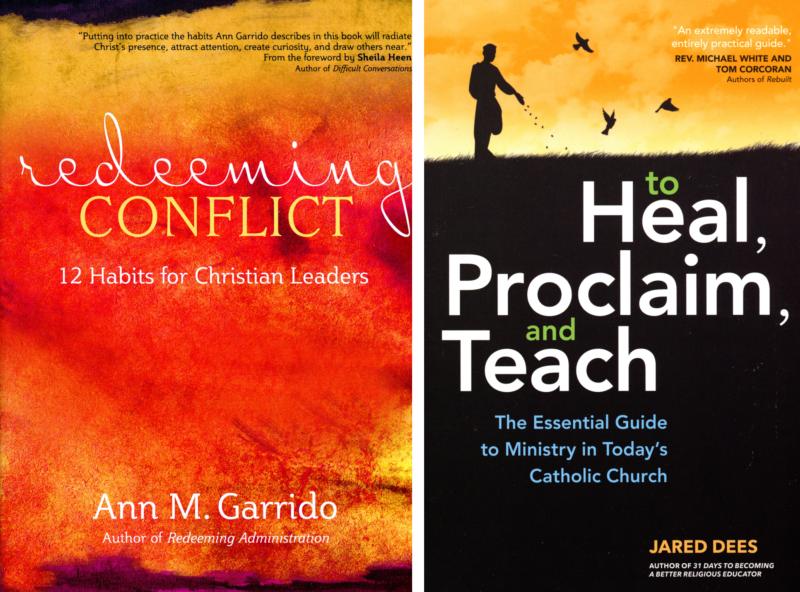 "Redeeming Conflict: 12 Habits for Christian Leaders"
by Ann M. Garrido.
Ave Maria Press (Notre Dame, Indiana, 2016).
270 pp., $15.95.
"To Heal, Proclaim and Teach: The Essential Guide to Ministry in Today's Catholic Church"
by Jared Dees.
Ave Maria Press (Notre Dame, Indiana, 2016).
298 pp., $16.95.
In "Redeeming Conflict," Ann M. Garrido, an associate professor of homiletics at Aquinas Institute of Theology in St. Louis, has written an easy-to-read, informative book about how to lead in situations when there is conflict. In the book's 12 chapters, Garrido suggests key concepts that leaders should keep in mind to help them to manage these conflictual situations successfully.
Garrido, who has served as the senior editor of Human Development magazine, writes in a personal style that engages the reader immediately. She begins each chapter with a pertinent quotation, sets out the key concept of the chapter using a personal story, offers insights from the literature that describes appropriate ways of dealing with the conflictual situation, and then brings the chapter to a close with a "Companion on the Journey" feature: a story of a saint who lived out the approach Garrido prescribes. The chapters end with reflection questions and a prayer.
Garrido bases much of her work on ideas developed by the Harvard Negotiation Project and by Triad Consulting Group, whom she credits. For this reason, although the book is clearly intended for those in Catholic Church ministry, the concepts she presents would help one to negotiate a conflictual relationship of any kind. For this reason, I would recommend this book highly to everyone, not just to those in leadership.
While the reflection questions are helpful, they are the one area of the book that disappoints. They too often bring forth only a yes or no response, and do not challenge the reader to deeper consideration. Questions for group discussion would have been greatly appreciated as well. Given the substance presented here, these are minor matters and do not detract from the value of the book to any substantial degree.
Jared Dees, the author of "To Heal, Proclaim and Teach," is the creator of the website The Religion Teacher (www.thereligionteacher.com) and frequently writes articles on catechesis in numerous magazines. A Notre Dame graduate with advanced degrees in theology and education, Dees offers practical resources and teaching tips for religious educators.
In this book, Dees provides a mini-compendium of ideas for those in Catholic Church ministry, not just those in catechesis, although catechesis remains the focal point for much of the content. Dees is a catechist, so it is no surprise that catechesis is his reference point.
Dees' primary argument is that religious instruction is not enough if we wish to bring people to faith. Instead, "we have to heal wounds, and we have to go deeper with our proclamation of salvation in Christ," he says in the introduction. Dees notes that he comes to this conclusion from his personal experience as a teacher. He writes, "I spent too many years focused on teaching people about the doctrines that I love rather than loving the people that I taught."
The core of the book is the second part, in which he writes about our need to imitate Jesus by first caring for people's needs (healing), then telling the story of salvation (proclamation), and only then, when we have their full attention, teaching them the beliefs of the church. In Part 3 he looks at the ways we can evangelize individuals and groups, and Part 4 looks at evangelizing various groups of people: children, teens, collegians, young adults and adults.
Dees writes with passion and conviction. He is very familiar with church documents related to catechesis and evangelization, and uses them well. His ideas for evangelizing the various age groups seem reasonable and practical. His entertaining stories always lead to a point, which he then reinforces with substance.
While I'm not willing to say that this is the "essential guide" for Catholic ministers today, I do recommend it for anyone in ministry to the Catholic Church, and especially to those who work in the fields of evangelization and catechesis.
***
Mulhall is a catechist who lives in Louisville, Kentucky.
Win free tickets, help support CatholicPhilly.com
CatholicPhilly.com often partners with our region's top cultural venues. During this two-week period, you can benefit by our association with The Franklin Institute in Philadelphia.
Make a donation of any amount during this period and you will receive two general admission tickets to Philadelphia's premier educational museum -- that's a $60 value.
Use our secure credit card form by clicking the link below. That will enable us to contact you so we can send the tickets, which are valid to September 2018.
Your donation helps us to provide high-quality coverage of the local Catholic communities we primarily serve, while also distributing national and world news of interest to Catholics, plus the orthodox teachings of the Catholic faith. Your gift gift of $40, $50, $100, or more will strengthen the fabric of our entire Catholic community.
Make your donation by credit card here: